Owning a pet involves more than just love – it is hard and continuous work, too. One of the most important tasks that pet owners need to tend to is cleaning the pet as well as its living environment – here is why removing pet stains instantly and trying to keep them away is essential to avoid health problems:
Pet stains can spread a horrible stench – many people with sensitive stomachs feel instantly nauseous in the presence of stinking pets or pet stains. If you or your guest is one of these people, the timely removal of any pet stain and the cleanliness of the pet are essential for well-being;
Major causes for various health problems – pet stains, whether in the form of droplets of urine, poop residues, saliva, dirty pet hair or dirt introduced into the home by your pet, can be the cause behind health problems, such as respiratory problems, skin irritations and bacterial infections that can cause diarrhea, intestinal and stomach pains. The solution is simple: clean up after your pet and make sure that the pet is clean, too.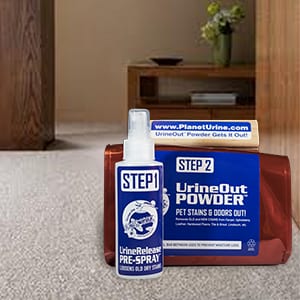 If you are wondering how to get dried dog poop out of carpet, after scraping up the dried poop as best as possible, and washing with warm soapy water, try using Pet Urine's UrineOut Powder. It is amazing at removing stains and odor. You must be aware that pet stains might sometimes be hard to find – pets tend to hide while pooping, so the best way to avoid pet stain problems is by cleaning your home often and thoroughly.