Cat diapers have been around for some time, helping cat owners as well as the felines who need them have a more comfortable life. At first, it might seem strange to put a diaper on your cat – and the cat might find it strange, too –, but once both of you get used to the idea and the practice, the benefits will be obvious. Here is how cat diapers are great for pet, owner and home as well: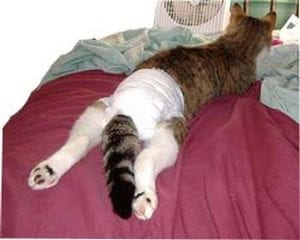 Enhanced comfort and well-being for your feline – many cats feel embarrassed and uncomfortable if they soil their living area. Diapers are the solution to the problem as they prevent leaks and restore your cat's confidence;
Diapers contain odors – cat urine does smell bad, especially if it comes from a tomcat. Diapers can solve that problem, too, by containing not only the liquid, but by neutralizing the stench as well;
Protection for cats suffering from a weakness of the back legs – the condition is very common among older cats and is usually associated not only with urinary incontinence, but also with the tendency to scoot around on the bottom, which causes further irritation in the affected area. Diapers provide an extra protection for your cat's sensitive skin by working like a pillow under the animal's bottom.