Having our pets living with us in the house has obvious benefits – for many of us, our animal friends are important members of the family, members who sleep and eat with us. However, what every pet owner must admit is that pets do stink occasionally and sometimes the smell is unbearable, especially if our beloved pet has rolled into something unimaginable during the last walk or if it has eaten something forbidden.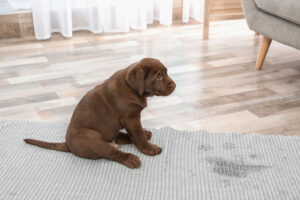 Fortunately, there are lots of great ways to remove pet odors from the home – here are some:
Enzyme-based cleaners – When you want to get dog pee stain out of carpet, these products do more than just remove the dirt or the stain that causes the stench. They actually break down the stuff that causes the smell, making sure that your pet will not be attracted to the soiled spot after you clean it;
The good old vinegar-baking soda combination – the concoction is a great ally against almost any type of pet odor, it removes the smell of any excrement or vomit;
Medical treatment and special shampoos for the pet – your pet might be bad-smelling because of some sort of dermatological condition, such as eczemas or skin inflammations caused by parasites. The special medicinal shampoos developed to treat such affections will manage your pet's condition and eliminate the smell, too.