LINOLEUM & VINYL CLEANING
MONEY BACK GUARANTEE
If for any reason, you do not want to keep your products, send them back within 30 days of the purchase date for a complete, no strings attached refund.
FREE SHIPPING OFFER
At Checkout Enter the Coupon Code FREE-SHIP-OFFER
($69/Min. Order, U.S. Only, Excludes Cat Attract Litter, Cannot Combine Coupons)
CLEANING URINE STAINS AND ODORS ON LINOLEUM AND VINYL FLOORING
Getting old urine, vomit or fecal stains and odors out of linoleum and vinyl flooring is an undertaking. Use our helpful tips and proven products to get the job done.
Here recently I noticed a very sticky substance on my linoleum in the bathroom. I tried scrubbing it with just soap and water and it wasn't budging. To the cleaning chemicals cabinet, I went. The only chemicals I had was urine out powder and pre-mist. I thought to myself what the heck I'll give it a try on my linoleum as well; Knowing to myself that it worked fantastic on my pet stains and all other stains in my carpets. I followed the directions and sprayed the pre-mist on my linoleum. Then sprinkled the powder and let it dry. I did not have a vacuum that could work on linoleum so I just used the hose attachment. To my amazement, there was no more sticky or gooey stuff on my linoleum. Not only just on the surface but in the cracks as well. This stuff really works I am really impressed with it.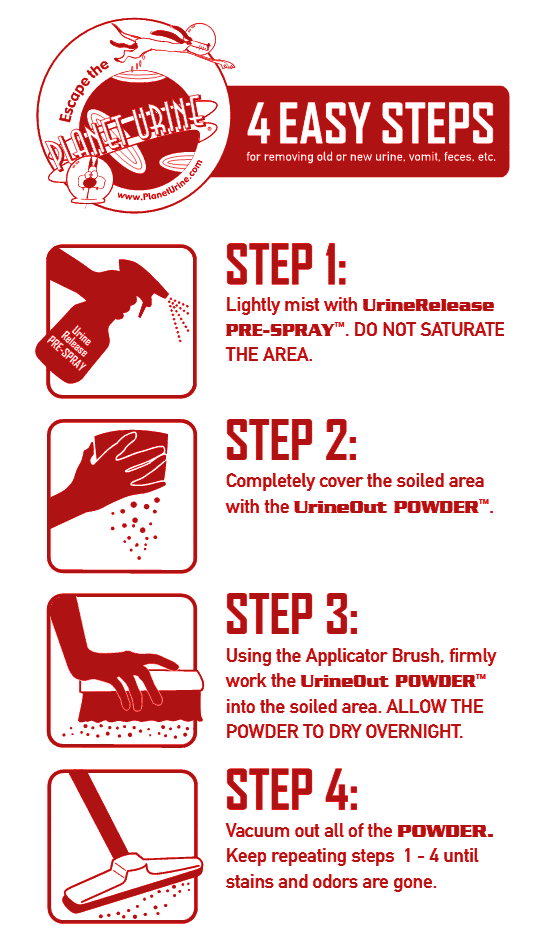 Follow these directions to REMOVE the old dry dog or cat urine stains and odors from linoleum and vinyl flooring:
Locate the areas where visible dog or cat urine stains or odors are noticeable. If you can't see any stains, but you can smell dog or cat urine odor, then you need to use a Planet Urine's Odor Detector Blacklight to locate the soiled areas.
Step 1: Spray the UrineRelease Pre-Spray to loosen old/dry urine.
Step 2: Cover the area with UrineOut Powder™ cleaning sponges.
Step 3: Brush the UrineOut Powder™ cleaning sponges onto the area. As the Powder dries it "sponges up" and absorbs the urine.
Step 4: After the Powder cleaning sponges have dried, vacuum it out. Urine stains and odors are gone!
Step 5: This next step will eliminate any "scents" from the areas you've cleaned. Spray Planet Urine's Smells No-More!™ Odor Eliminator directly onto the areas.
Smells No-More!™ Odor Eliminator is the most effective dog and cat urine odor eliminator you'll ever use… it works! Smells No-More!™ Odor Eliminator is the new standard for safe and easy pee odor control… available in a money saving gallon size bottle!
Step 6: Treat the areas with No-P!™ Housebreaking Aid to keep your pets away from the areas. When sprayed on the cleaned areas, No-P!™ Housebreaking Aid will keep any other pets from re-soiling in the areas.
Now; Make amends with your pet. At Planet Urine we make it easy to forgive your best friend!
Hard Surface Stain and Odor Cleaning Systems