USE THESE SIMPLE HOW-TO ARTICLES TO HELP YOU houseTRAIN YOUR PUPPY.
Would you finally like to solve your loving puppy's urination behavior problems? Are you at your wits-end of what you can do?
At PLANET URINE – The Pet Happy Home Specialists, we've put together a panel of highly specialized animal behaviorists to HELP YOU understand and STOP your cat or kitten's urination problems in your home. Our Animal Behavior Specialists are available to help you FREE OF CHARGE with any of your pet behavior problems.
ALL YOU HAVE TO DO IS ASK
You will then be able to work personally with an Animal Behavior Specialist. FREE One-On-One expert consultation will help you through your puppy's training period.
We want to be sure that your puppy remains a loving, and most importantly, a lifelong member of your family.
RECOMMENDED PRODUCTS FOR PUPPY TRAINING
PU Housetraining Wrappers™ Belly Bands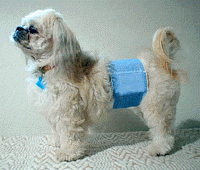 Would you like to stop male dog urinating in your house? PU Housetraining Wrappers™ Belly Band is specially designed to stay on your dog. FREE step-by-step Training Manual included. Veterinarian Recommended. Learn More.
"Gotta Go" Dog Doorbell Training System
$19.95
With the acclaimed training DVD included, learn to teach your dog to tell you when she wants to go outside! Learn More.
NO-P!™ HOUSEBREAKING AID

STARTING AT ONLY $14.95
An effective deterrent to keep your pet from re-urinating in the area/s you've cleaned by eliminate the urine scent. Learn More.