FIND THE SOURCE OF THE ODORS! SEE WHERE TO APPLY PLANET URINE CLEANING PRODUCTS TO ELIMINATE ODORS.
Find the Source of the Odors! See where to apply Planet Urine Cleaning Products to eliminate odors.
* FREE Blacklight Offer * See Details Below
DIRECTIONS: Shine the Urine Odor Detector Blacklight on the surface where you are trying to locate sources of urine odors. The Urine Odor Detector Blacklight shows these areas as greenish/yellow. Now you know where to clean.
HOUSEBREAKING HELP: This REALLY HELPS to help prevent repeat urination in the house. Using the Urine Odor Detector Blacklight, you will now know where to clean with the UrineOut Powder and treat with Smells No More!™ Odor Eliminator and No-P!™ Housebreaking Aid to help housebreak pet/s.
Finally, housebreaking your pet/s becomes easier!
Planet Urine's Odor Detector Blacklight is powdered by 3 AAA batteries.
"..And the blacklight……that's a double edged sword. On on hand, it's good to see where the "accidents" are hiding, but I was surprised and the number that I found." – Katherine
"…I rushed home and used the blacklight. My dining area under the table glowed menacingly!" – Katy
---
FREE BLACKLIGHT included with…
Ultimate II Cleaning System
Godzilla Buster
Hard Surface Cleaning Systems
ONLY $10.95 w/ purchase of…
Ultimate I Cleaning System
Basic Stain Remover System
For The Sceptic – Prove It! Kit
Odor Detector Blacklight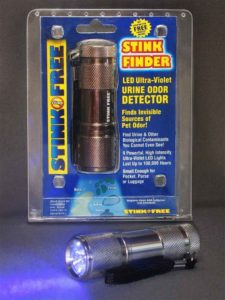 a must have! Only $10.95
Planet Urine's Odor Detector Blacklight
Helps you locate INVISIBLE sources of dog urine, cat urine, human urine odors in carpets, hardwood floors, tile, upholstery and other surfaces when no urine stains are visible.
Disposable Cat Diapers & Dog Diapers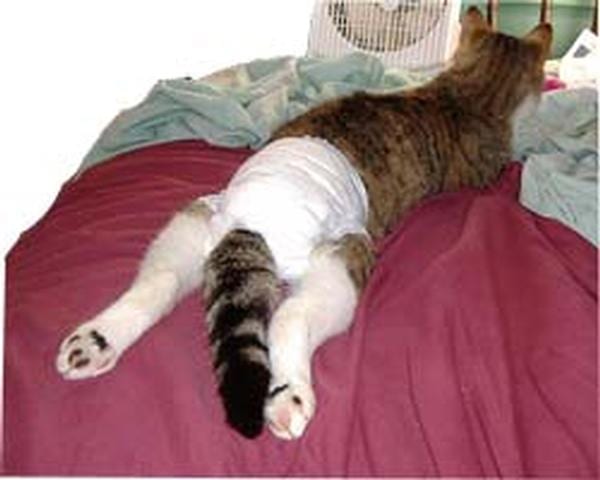 Sizes from x-Small to X-Large
Disposable Cat Diapers and Dog Diapers
Let your cat, kitten, dog or puppy, roam around the house again! These disposable cat, kitten, dog & puppy diapers come in many sizes and will work for all sizes of cats and dogs. Comes with 10 diapers per pack.
Learn More