MONEY BACK GUARANTEE
If for any reason you do not want to keep your products, send them back within 30 days of purchase date for a complete, no strings attached refund.
FREE SHIPPING OFFER
At Checkout Enter the Coupon Code  FREE-SHIP-OFFER
($69/Min. Order, U.S. Only, Excludes Cat Attract Litter)
30 DAY MONEY BACK GUARANTEE
Our "Customer For Life" Money Back Guarantee makes sure that YOU get the RESULTS you expect and paid for. With tens of thousands of satisfied customers world-wide, we are committed to your satisfaction. Our Goal; for YOU to be totally happy with your purchase so you can enjoy a "Pet Happy Home"!
Our products will give you the most thorough spot and stain removal ever. The stains and odors will not come back! We stand behind all of the products with 100% confidence that they will produce the results you expected and paid for. We can do this because we test the premium products on the market today and ONLY provide you with the best-of-the-best.
---
There's Only One Catch
YOU need to do one thing. You have to commit to following our step-by-step instructions. This is the same exact process our Pet Stain and Odor Removal Specialists use. Our products are designed specifically to solve your problems if you use them in the manner in which they were designed.
---
Return Authorization Instructions
Please follow these Return Authorization Instructions to ensure your products are returned safely (shipping charges are non-refundable).
Seal all containers tightly, to prevent leakage.

Pack items correctly, and make sure there is sufficient packaging, to prevent damage during shipping.

Include a copy of your original order Packing Slip, or, a copy of your order. This is important, we need to know who the returned products came from.

You may find our address, printed on the Packing Slip, that came with your order.
If you do not have your original Packing Slip, here is our return address:
Planet Urine Returns
1804 W. Yampa St.
Colorado Springs CO  80904, USA, Earth
Thank you.  We just want you to be satisfied.
Prove It! Kit™
Now Only $19.95
Prove it! Kit™
You have a right to be leery of products that claim dog urine, cat urine or human urine, vomit & fecal removal.
Give the Prove It! Kit™ a chance to do what it's named for.
Small Hard Surface Cleaning System II
now only $47.95
The Small Hard Surface Cleaning System II
Cleans up to 125 sq. ft.
Hard Surface Cleaning for Dog Urine, Cat Urine, Human Urine STAINS and ODORS.
Using the UrineOut Powder™ this is designed for the removal of BOTH urine stains &/or urine odors from hard surfaces such as Hardwood Floors, Tile, Grout, Concrete, Etc.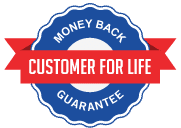 FREE EXPERT HELP!
Do you want to STOP your pet from PEEING? Discuss your pet problems with an Animal Behavior Specialist!
PET TAILS. SHORT, FUN & INFORMATIVE
FREE EXPERT HELP!
Do you want to STOP your pet from PEEING? Discuss your pet problems with an Animal Behavior Specialist!
PET TAILS. SHORT, FUN & INFORMATIVE