If you have a new puppy, chances are it'll take a while before he or she is properly potty trained. During this time, accidents will happen, and if you want to avoid your stress of having a clean home clashing with your love for your puppy, it's best to have a strategy in place for dealing with messes as soon as you discover them. One way to eliminate messes is to have your puppy wear dog diapers throughout the training process. If you don't like that idea, here is some cleaning advice.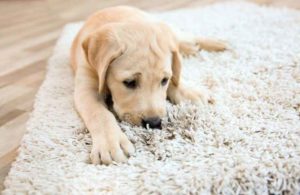 The biggest issue is pet urine. For this one, you have to make sure that you clean it while it's still fresh, so you can easily get the odor out of your carpet, or any other affected surface. Use a deep cleaning agent to prevent the urine from staining your carpet and keep the odor from enduring. If you didn't discover the stain soon enough, repeat the process several times, and possibly prepare the area using an enzyme-based formula after which you can keep a clean damp towel over it for up to 48 hours to ensure that the enzymes do their work properly.
For vomit and feces, fast action is also important, but using the right cleaning methods can be even more important in some cases. Planet Urine enzyme-based cleaning formulas are ideal for this purpose, but in some cases, when your surfaces also contain dyes or are more fragile, it might be necessary to use a milder formula in combination with a gentle deep cleaning agent and a pre-treater that is especially designed to protect dyes.