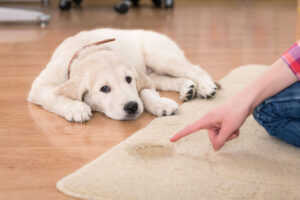 Many dog owners don't realize how smelly their canine companion really is until they spend more time at home. There are many causes to dog smell – your dog might have a dermatological affection, such as a parasite infestation, he might have rolled into something outside or might react to higher temperatures with that stench. Fortunately, there are many solutions that you can try to get rid of that smell – here are some:
Use an enzyme-based cleaner – these effective urine out powder products do more than just cover the smell, breaking down the proteins that are responsible for the smell;
Tend to your dog's coat – long, tangled, dirty dog hair can have a horrible smell, so make sure that your dog is properly groomed. Get a bottle of special dog shampoo and a special dog brush – your pooch might be reluctant in the beginning, so try to make the grooming process playful and enjoyable;
Clean your dog's bedding and toys regularly – your dog's bed and precious toys get dirty and smelly very quickly, so make sure that you have several sets of bedding and change the covers used by your dog regularly. Try to use a fragrance-free washing product on your dog's items – dogs don't like perfume and your pooch might be unwilling to use a perfumed bed.