Pets are adorable and become members of the family. At the same time, however, they need special attention. Pet stains are one of the unpleasant problems that pet owners must deal with and they know very well how difficult it is to remove them completely.
Vinegar is a very popular ingredient in homemade solutions that people use to clean pet stains. But is it really good?
Vinegar has multiple beneficial uses when it comes to pets. It improves the digestion of dogs and cats, by lowering the pH and stimulating good bacterial cultures, keeps insects away from the animal's fur and can be used to clean the pet's ears, as it rebalances the skin's pH and kills mycoses.
But when it comes to using it to clean pet stains, caution is recommended. It is true that the acetic acid lowers and may even neutralize the ammonia from the animal urine, also breaking down bacteria that can exist in pet waste. However, considering that it is acidic in nature, vinegar also holds many of the same properties as pet urine. Besides, its scent can actually draw the animals back to the same place again, which is something you want to avoid.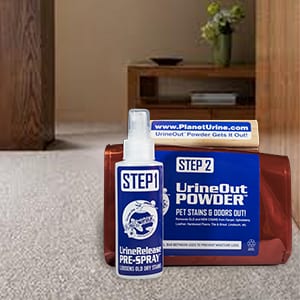 So if you want to remove cat urine from carpet, you should replace vinegar with an enzymatic solution from Planet Urine for cleaning pet stains.