how to get pet stains out of HARDWOOD FLOORS
In 4 Easy Steps

"This product is HEAVEN SENT! IT WORKS GREAT!!! My hardwood floors have been saved! Yea!!!" – Paul Paulson, Boulder

GET URINE STAINS OUT OF HARDWOOD FLOORS FOR GOOD!
MONEY BACK GUARANTEE
If for any reason, you do not want to keep your products, send them back within 30 days of the purchase date for a complete, no strings attached refund.
FREE SHIPPING OFFER
At Checkout Enter the Coupon Code FREE-SHIP-OFFER
($69/Min. Order, U.S. Only, Excludes Cat Attract Litter, Cannot Combine Coupons)
GET CAT URINE OUT OF HARDWOOD FLOORS!
Do you feel like your whole house smells like a litter box? Chances are you have tried enzyme based products, DIY tips, and steam cleaning but the horrifying smell keeps coming back. Liquid cleaners don't work because the cat urine is deep down in the pores of your wood floors and its impossible to soak all of the ingrained, microscopic mess with a rag or mop. The only way to reach deep down into the pores of the wood is to absorb the urine and cleaning solution with a powder.
UrineOut Powder™ goes deep into the crevasses and pores of your wood floors to soak up cat urine and get rid of the stain and stench for good. In just 4 SIMPLE STEPS, your home will be smelling like springtime in no time!
If for any reason, you do not want to keep your products, send them back within 30 days of the purchase date for a complete, no strings attached refund.
DON'T LET YOUR DOGGIE STAIN YOUR WOOD FLOORS!
Remove dog stains and odors from wood floors with UrineOut Powder™.
Don't waste your time and money on liquid cleaners that leave traces of stinky urine behind. UrineOut Powder™ gets in to the nooks and crannies of wood to soak up ALL of the urine and the smell that goes with it.
With UrineOut Powder™ your home will smell urine free, making you free to have friends over with confidence!
THE ONLY HARDWOOD FLOOR STAIN REMOVER YOU'LL EVER NEED!


Are you looking for a hardwood floor stain remover? Have you tried everything and nothing has worked? Pet stains are frustrating and even embarrassing! Learn how to get dog urine and cat urine smells out of hardwood floors using the best urine odor remover on the market. Use our helpful tips and proven products, like UrineOut Powder™ micro-sponges, to get the job done – once and for all!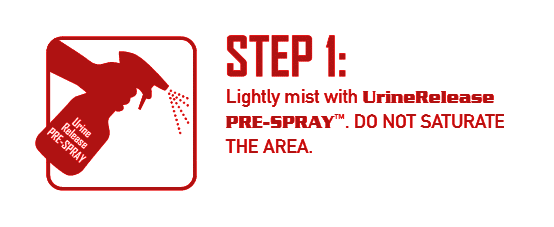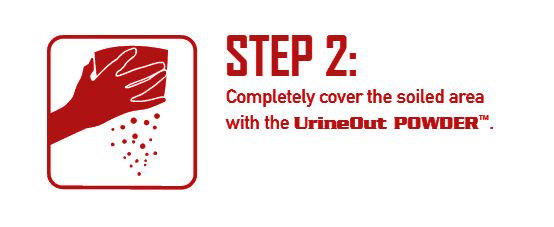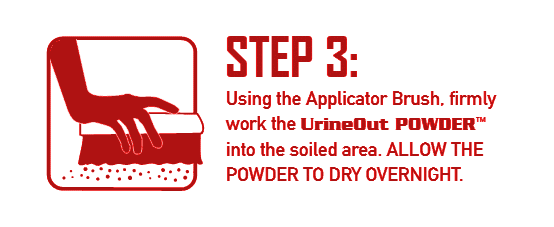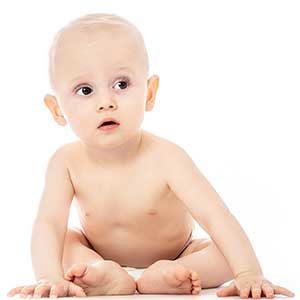 GET HUMAN URINE SMELL OUT OF HARDWOOD FLOORS!
Do you have human urine soaked into your hardwood floor? Our cleaning system kits are not only for pet stains, but for human stains too!
Getting urine stains out of hardwood can be one of toughest stains to remove. Our cleaning system uses powder that absorbs the mess completely. Its the only way to get deep into the grain of the wood to extract urine.
I just wanted to say that I was very skeptical when I ordered this kit. I've tried everything to remove the dog urine damage and odor on my hardwood, unfinished floors. Your product worked like a miracle! It did exactly what you said it would do. It was very easy to apply, and my dogs have not been anywhere near the place since I've cleaned it. I am so happy with the hardwood floors that I will be buying the carpet cleaning product as well. Thank you so much. You saved me a TON of money – I thought for sure that I would have to replace the floors, which would have cost a small fortune.
Your product is amazing!!
Where have you been all my life !!?? After using several products "Claiming" to get dog urine stains out of hardwood floors along with the smell associated with said stains, I FINALLY found a product that works as stated! My old dog Roz recently began having seizures and losing control of his bladder. I thought my beautiful hardwood floors were ruined. This product is HEAVEN SENT! IT WORKS GREAT !!! My hardwood floors have been saved! Yea!!!
Many Thanks.