ALL SURFACE KITS – PET URINE REMOVER SYSTEMS
FREE SHIPPING OFFER
At Checkout Enter the Coupon Code  FREE-SHIP-OFFER
($60/Min. Order, U.S. Only, Excludes Cat Attract Litter)
STOP ADDING LIQUID TO URINE STAINS & ODORS
It only Dilutes and Spreads the Dog Urine, Cat Urine, or Human Urine! Any liquid based cleaning solution doesn't work because you will never be able to "blot" or wash all of that wet liquid mess out of the pores of your carpet, hardwood or tile & grout floors!
You still have the urine stains and smell because they are deep down in the pores of the surface! Liquid products cannot absorb and extract the urine stains and smell and only masks the urine odors for a short time.  Eventually the urine stains and odors return!
UrineOut Powder™ Powder is Specifically Formulated for Permanent Removal of  Dog Urine, Cat Urine & Human Urine, Vomit or Feces Stains and Odors from Carpet, Hardwood or Tile & Grout Floors.
UrineOut Powder™ ABSORBS the source of the urine stains and odors and simply vacuum them out  Now, you can FINALLY remove ALL the dog urine, cat urine, or human urine stains, smells & odors COMPLETELY!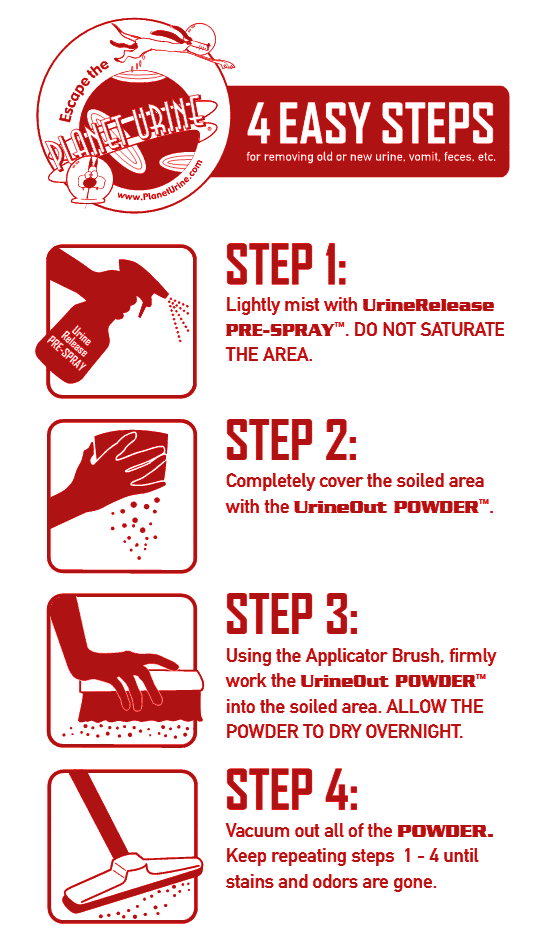 Follow these directions to REMOVE the old dry dog or cat urine stains and odors from Carpet, Hardwood or Tile & Grout floors:
Locate the areas where visible dog or cat urine stains or odors are noticeable. If you can't see any stains, but you can smell dog or cat urine odor, then you need to use a Planet Urine's Odor Detector Blacklight to locate the soiled areas.
Step 1: Spray the UrineRelease Pre-Spray to loosen old/dry urine.
Step 2: Cover the area with UrineOut Powder™ cleaning sponges.
Step 3: Brush the UrineOut Powder™  cleaning sponges onto the area. As the Powder dries it "sponges up" and absorbs the urine.
Step 4: After the Powder cleaning sponges have dried, vacuum it out. Urine stains and odors are gone!
Step 5: This next step will eliminate any "scents", from the areas you've cleaned. Spray Planet Urine's Smells No-More!™ Odor Eliminator directly onto the areas and allow to air dry.
Step 6: Finally, treat the areas with No-P!™ Housebreaking Aid to keep your pets away from the areas. When sprayed on the cleaned areas, No-P!™ Housebreaking Aid tells pets to "Stay AWAY!" to aid in housebreaking dogs and cats.
THE PROVE IT! KIT™ SPOT CLEANING
SMALL STAINS & LIGHT ODORS
~ Add a Blacklight for ONLY $10.95 ~
You have a right to be leery of products that claim urine removal.
Includes ALL of the following:
UrineOut Powder™ – 1 lb. Prove-It! Shaker
UrineRelease Pre-Spray – 4 oz. Bottle
Applicator Brush
Complete Detailed Instructions To Remove Old/Dry Urine & New/Wet Urine Stains and Odors.
Spot Cleaning of Urine Stains & Odors
Make your purchase in peace knowing we back our product with 100% Money Back Guarantee!
Give the Prove it! Kit™  a chance to do what it's named for.
Normal Price $23.95
Now, Only $19.95!
free URINE ODOR DETECTOR BLACKLIGHT
Planet Urine's Urine Odor Detector Blacklight helps you locate INVISIBLE sources of urine odors in carpets, hardwood floors, tile, upholstery and other surfaces when no urine stains are visible.
***Included for FREE when you order the Large All Surface Cleaning Kit for $72.95
**Save $15.00!**


Now only $72.95 Complete
FREE Odor Finder Blacklight / Cleans ALL SURFACES up to 400 sq. ft
Do you feel like a MONSTER has been peeing in your home?  This kit is "Godzilla" sized to help you clean several rooms (up to 400 sq. ft.!). Cleans old dry; dog urine, cat urine, human urine, vomit or fecal stains and odors.  NOW YOU'RE ARMED FOR BATTLE!
For HEAVY Urine Stains & HEAVY Urine Odors on Carpets, Rugs, Hardwood Floors, Tile/Grout & Upholstery!

$72.95 COMPLETE
I just wanted to say that I was very skeptical when I ordered this kit. I've tried everything to remove the dog urine damage and odor on my hardwood, unfinished floors. Your product worked like a miracle! It did exactly what you said it would do. It was very easy to apply, and my dogs have not been anywhere near the place since I've cleaned it. I am so happy with the hardwood floors that I will be buying the carpet cleaning product as well. Thank you so much. You saved me a TON of money – I thought for sure that I would have to replace the floors, which would have cost a small fortune.
Your product is amazing!! Nancy
Where have you been all my life !!?? After using several products "Claiming" to get dog urine stains out of hardwood floors along with the smell associated with said stains, I FINALLY found a product that works as stated! My old dog Roz recently began having seizures and loosing control of his bladder. I thought my beautiful hardwood floors were ruined. This product is HEAVEN SENT! IT WORKS GREAT !!! My hardwood floors have been saved! Yea!!!
Many Thanks. Paul Paulson
FREE SHIPPING OFFER
At Checkout Enter the Coupon Code  FREE-SHIP-OFFER
($60/Min. Order, U.S. Only, Excludes Cat Attract Litter)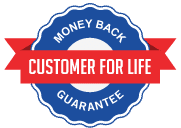 FREE EXPERT HELP!
Do you want to STOP your pet from PEEING? Discuss your pet problems with an Animal Behavior Specialist!
PET TAILS. SHORT, FUN & INFORMATIVE
FREE EXPERT HELP!
Do you want to STOP your pet from PEEING? Discuss your pet problems with an Animal Behavior Specialist!
PET TAILS. SHORT, FUN & INFORMATIVE